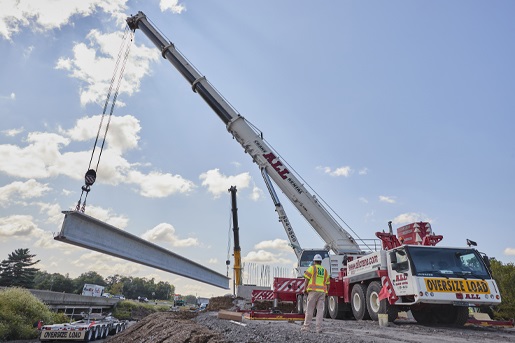 Indiana has been a hotbed of road construction for the past several years, with improvements to multiple interstates occurring simultaneously. This includes the project to extend I-69 from the Martinsville area to I-465, the sixth and final section of a 142-mile connection between Evansville and Indianapolis. The Indiana Department of Transportation (INDOT) estimates this final leg will save drivers 11 minutes of travel time between Martinsville and Indianapolis and help prevent approximately 1,300 crashes per year.
Precast beams factor into work for new bridges that are part of the project, including a recent span built over a creek in Indianapolis. Working with Milestone Contractors, Central Rent-A-Crane, a member of the ALL Family of Companies, provided cranes for the dual picks needed to set each precast beam, which were 153 feet long and weighed 214,000 pounds.
Central recommended two large all terrain cranes for the job, a 500-USt Liebherr LTM 1400-7.1 and a 550-USt Grove GMK7550. "The size and mobility of these units make them ideal for this work," said Tim Welty, project estimator for Central. "They were able to back up to the existing bridge inbents with no issue, and had the reach and capacity to accommodate the precast beams. Add two skilled operators, and you've got the perfect team assembled for a smooth lift."
Both cranes were configured with 100 feet of main boom and 264,000 pounds of counterweight. Combined, the cranes were configured to handle a total 300,000 pounds per lift, making even the heavy weight of the beams well within capacity.
The precast beams were trucked to the site individually, where they were rigged to be picked by the LTM 1400 and GMK7550. The flatbed carrying a beam pulled parallel to the bridge location and each crane, on their respective inbents above, would swing toward it, attach to the rigging, lift, and swing the beam into position.
Work was scheduled for two days, in which seven beams were picked and set. Central Rent-A-Crane is slated to work on several more bridge projects in the coming months for the I-69 project. "There's a big push for infrastructure work in Indy," said Welty. "We're proud to be involved in projects that will reshape the vehicular travel experience in our region for generations to come."
Work on the entire I-69 project is expected to be done by 2024.