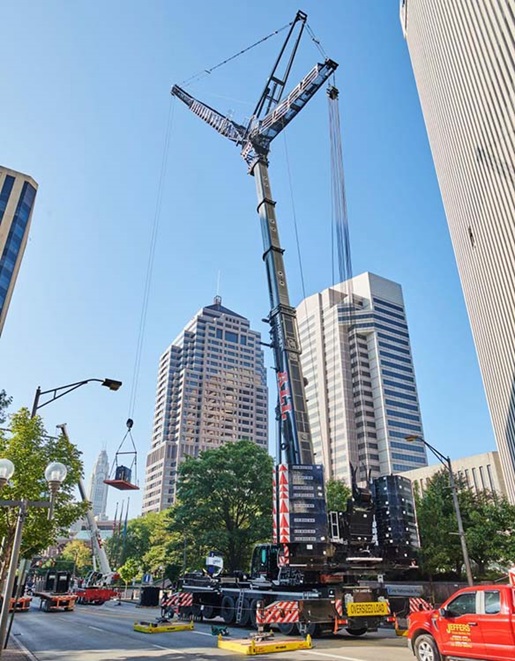 A fall weekend in downtown Columbus, Ohio, looked like an all-terrain crane takeover as two Liebherr LTM 1450 ATs were hard at work on two separate projects on the same street. Both cranes were provide by ALL Crane Rental Corp., a member of the ALL Family of Companies.

The first job was swapping out a series of transformers from the 15th floor of a high-rise. The second was disassembling a tower crane that had been on a job site for 18 months.

For the transformer job, ALL's customer was Atlas Industrial Contractors. "We were replacing transformers that had been in place for decades," said Hunter Edwards, project manager for Atlas. Work crews actually removed some precast concrete sections to open a hole in the exterior wall of the building so the crane could access the transformers from the building's service floor. Once work was completed, the wall was sealed up.

The Liebherr LTM 1450 was configured with 120 feet of main boom, 180 feet of luffer, and 295,400 pounds of counterweight. Each transformer weighed in at approximately 20,000 pounds with dimensions of seven feet high, four feet wide, and six feet deep. Replacement transformers had roughly the same dimensions and weighed 17,000 pounds each.

The crane was set up on High Street, one of the busiest streets in downtown Columbus. "There's a saying in Columbus, 'you never get High Street,' meaning the city will never authorize closing any lanes of traffic on that street," said Edwards.

In this instance, the city did authorize the closures, and the crane was taking up three-quarters of High Street. The work had to be completed in a single weekend. The Liebherr LTM 1450 was assembled on Friday night, the four old transformers were removed and four new were installed in a single Saturday, then the crane was disassembled and trucked away on Sunday.

Meanwhile, at the intersection of High Street and Broad Street, ALL had a second Liebherr LTM 1450 AT set up to aid in removal of a tower crane that had been in place for a year and a half for customer Urban Five Construction. The AT was configured with 138 feet of luffer and 295,400 pounds of counterweight. A smaller AT, a Liebherr LTM 1060, was used as an assist crane for the 1450 and helped load out the sections of the Potain 368 tower crane.

The second 1450 was also assembled Friday night and worked through the weekend to complete the tower crane removal. By Monday morning, High Street was back to bustling as normal, and downtown workers made their commutes unimpeded.