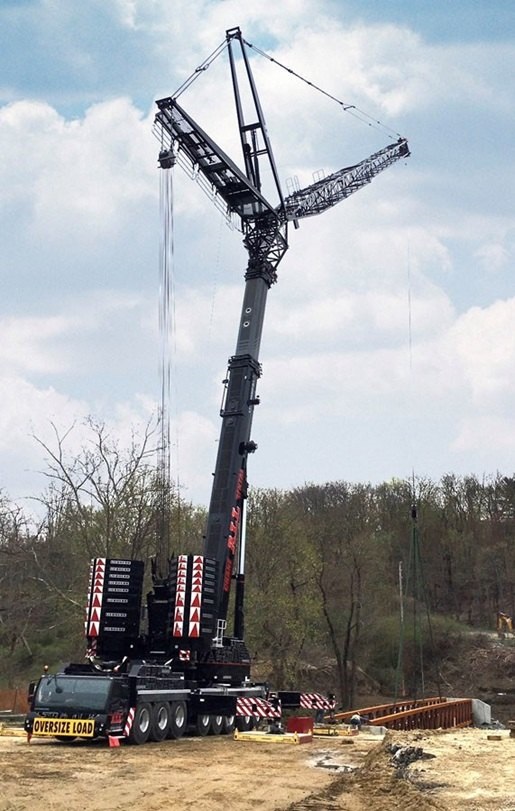 To perform any job correctly, it's important to have the right equipment. Even better if one tool can do many things. In the heavy lift industry, a versatile piece of equipment can have a positive effect on a job's safety, productivity, and cost. ALL Erection & Crane Rental Corp. of Cleveland, a member of the ALL Family of Companies, recently proved this point using a Liebherr LTM 1450-8.1 mobile crane with VarioBallast® on the Uhler Conveyance combined sewer project in Akron, Ohio.
H.M. Miller Construction of Akron contracted with ALL Crane to provide lift services for placing an aerial utility bridge to hold a storm sewer pipeline over the Little Cuyahoga River. The bridge was 160 feet long, weighed 70,000 pounds, and was located in a heavily wooded area. ALL Crane needed to supply a crane that could handle that weight and maneuver within the confines of nearby trees.
After surveying the jobsite, ALL Crane equipment specialist Brian Meek specified the 500-USt Liebherr LTM 1450-8.1 for the job. He chose it largely due to the 1450's excellent performance in tight spaces—thanks to VarioBallast, an adjustable counterweight system that gives the crane operator great flexibility in where to position the crane in preparation for a lift.
VarioBallast allows the ballast radius to be reduced, with infinite adjustment from 16 feet to 23 feet using a hydraulic swivel mechanism. "That difference in length can be the crucial difference that gets the crane in proper position for the lift," said Meek. "In this case, it allowed us to get very close to the tree line while still operating with complete safety."
Affording the operator extreme flexibility in positioning the counterweight, VarioBallast offers a major benefit when space is limited. "This operator control can't be overstated," said Meek. "VarioBallast can even be moved completely to the side of the crane, providing ample clearance to back up and fit into an especially tight spot."
That was precisely the situation presented by the sewer bridge job site.
"There were trees we had to swing around, and the 1450's ability to maneuver the counterweights increased our radius without requiring a super lift attachment," explained Meek. "We also were able to use less counterweight, set back farther with greater capacity, and eliminate three additional truckloads of parts, which maximized assembly and disassembly time for the customer."
The LTM 1450 was configured with 70 feet of main boom and a 126-foot luffing jib to pick the bridge off the ground, maneuver around the tree line, and set the bridge across the river banks.
"VarioBallast and the well-engineered simplicity of the 1450 made it possible to hit our required radius safely while remaining well within safe capacity limits," said Meek. "The multiple configurations that this crane brings, from heavy lifts to far reaches, lets us equip it in many different ways to obtain the weight and radius customers require. It's a single tool that gives us a lot of extra tools we can use once the crane's on site."
About ALL
The ALL Family of Companies is the largest privately held crane rental and sales operation in North America. Their strategically located branches have access to one of the world's largest and most modern fleets, operating under the ALL, ALT, Central, Dawes, and Jeffers names. Toll free: 800-232-4100 or www.allcrane.com.