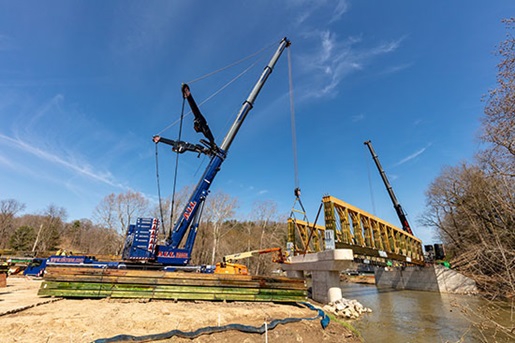 History seems to be happening in reverse at a bridge replacement project along a scenic byway in Loudonville, Ohio, a village located between Cleveland and Columbus. A concrete and steel bridge is being removed and replaced with a quaint-seeming throwback, a wooden covered bridge. It took two decidedly modern cranes from ALL Erection & Crane Rental, flagship yard of the ALL Family of Companies, to get construction started.

This being 2023, the "wooden" bridge is actually made of a combination of wood and steel, in the form of Pratt trusses assembled on site. These trusses of triangle-shapes with diagonal supports sloping toward the center of the bridge were introduced in 1844 as an effective way to cover long spans of 250 feet or more.

For Loudonville's Wally Road bridge, spanning 300 feet over the Mohican River, two large Liebherr all terrain (AT) cranes were needed to set the first two trusses. The massive marvels have capacities of 550 tons and 770 tons, and crane operators had to perform complex maneuvers to bring the assembled trusses from the ground to their final resting places on the bridge abutments.

ALL provided the Liebherr LTM 1450-8.1 (550 USt) and Liebherr LTM 1650-8.1 (770 USt) and operators to its customer, Kokosing Construction.

Kokosing project manager Matt Luyster says, due to site limitations, his crew can only assemble two trusses before they run out of room, meaning cranes will be making multiple trips to the site. "It took the better part of two months to assemble these first two trusses on-site," said Luyster. "ALL delivered the truckloads of cranes several days before the lifts to allow assembly time then executed the truss lifts in a single extended workday of approximately 14 hours."

The larger of the two cranes, the LTM 1650, was first to pick a truss and swing it over the Mohican River. Once it reached a 70-foot radius, it had to lower the truss back down, with one end on a temporary support and the other end hanging over the river. The LTM 1450, staged on the other side of the river, then attached to the floating end of the truss. The truss was now stable enough for the LTM 1650 to release the truss and pick it up from the other end. At that point, the two cranes executed the dual pick to set the truss in place. The process occurred twice over the course of the day.

Setting future trusses will require only one crane. The LTM 1650 will return to the site this summer for single picks of additional trusses. Work on the bridge is expected to wrap up in the fall.