Heralded as a "Midwest success story" by no less than Forbes, the growth of Columbus, Ohio, and its business district that runs the corridor through to Cincinnati, rolls on. The years-long construction boom is expected to continue well through 2019, and all sectors are seeing growth, from retail and residential to medical and education to municipal, industrial, and utilities.
ALL Crane Rental Corp. of Columbus, a member of the ALL Family of Companies, has long been a believer in the viability of the region. The company has invested mightily in the latest crane technology to stay ahead of construction trends. "Whatever the market needs to help growth, we want to be at the forefront," said Rich Randall, general manager. "We've been here from the beginning, and we are prepared for many strong years ahead."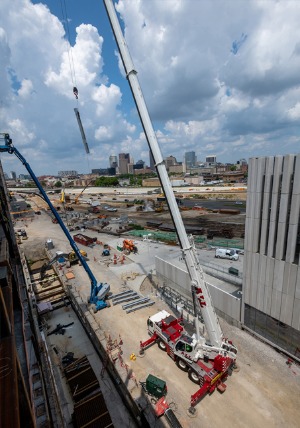 In response to the demands of the market, ALL Crane Rental Corp. of Columbus is adding even more muscle to an already powerhouse fleet. The branch has acquired three new Liebherr all-terrain cranes. Included in the package are an LTM 1060-3.1, LTM 1090-4.2, and LTM 1160-5.2. The versatile machines are packed with features that are attractive across core markets like building construction, utilities and refineries, and roads and bridges.
The LTM 1060-3.1 is a 3-axle, 50-USt crane with 157 feet of full power boom and a two-section 31- to 52-foot offsettable swing-away jib. The LTM 1090-4.2 has 4 axles, a 110-USt capacity, 197 feet of full power boom, and the two-section 31- to 52-foot offsettable swing-away jib. Together, they represent the maximum boom lengths available in their capacity categories. The LTM 1160-5.2 is a 5-axle crane with a 190-USt capacity. The machines bring versatility to Columbus and surrounding markets like never before.
The LTM 1090 is first Liebherr in the 110-ton category. "To be competitive with customers in this market, we wanted to be able to bring a machine with 197 feet of full power boom. It can reach out farther and higher and at a lower cost," said Rich Randall, general manager of ALL Crane Rental Corp. of Columbus. "We expect it to be in demand for cell tower construction, utilities, chemical plants, and manufacturing plants. It's ideal for working on rooftops and in tight quarters.
The LTM 1090-4.2 and LTM 1160-5.2 both have VarioBallast® and optional VarioBase®. "The state-of-the-art monitoring systems for outrigger lengths, pressures, and center of gravity are a huge aid to the operator," said Shawn Piatt, operator. "Being able to see when weight is being shifted from one area to another and monitor what's happening is a revelation." These systems help ensure safe, efficient operation in a variety of tight spaces and demanding environments.
Randall says the 50-ton LTM 1060 will be popular for road construction. "For new highway projects and country roads where they have to maintain lane openings, this gives us the ability to set up with less counterweight. Having the boom in the saddle will save time at setup and teardown. Plus, it's a one-man machine. It all adds up to greater efficiency and superior performance for customers."
The region's premier power provider rented the 1060 almost immediately after ALL took delivery, using it to set power poles and transmission lines along roadways.
"With better capacities, longer booms, robust safety technology, and a number of features that save time and money, these new ATs from Liebherr are going to be very popular with customers," said Randall. "This investment gives us the most comprehensive toolbox and signals ALL's continued commitment to being the lift equipment provider of choice for the region."
About ALL
The ALL Family of Companies is the largest privately held crane rental and sales operation in North America, operating under the ALL, ALT, Central, Dawes, and Jeffers names. For a rental quote: 800-232-4100 or www.allcrane.com.