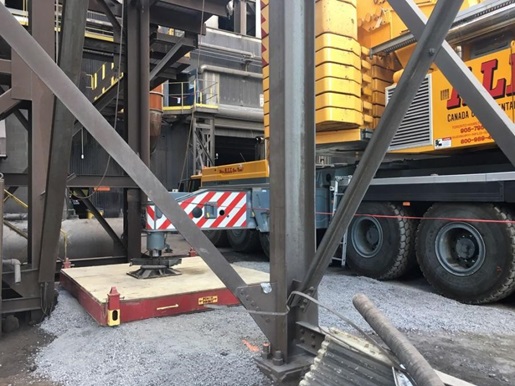 Installing a 160,000-lb. electrical transformer at a steel mill isn't an everyday occurrence — for good reason. It takes an incredible amount of planning to make sure the endeavor proceeds smoothly, safely and with a minimum amount of plant downtime. ALL Erection & Crane Rental, a member of the ALL Family of Companies, was able to achieve these objectives while also using a crane with a smaller capacity than many thought possible
A steel mill in Youngstown, Ohio, was due for a transformer changeout at its melt shop, where scrap metal is melted down in an electric arc furnace. They awarded the job to a key contractor who called on ALL Crane to provide the crane for the work.
ALL Crane sales representative Brian Meek was certain he could use a 600-ton Liebherr LTM 1500-8.1, even though transformer changeouts at the mill in the past had required a crane with a larger capacity.
"The smaller crane obviously saves money for the customer," said Meek. "But given the tight space we needed to maneuver, I thought the 1500's smaller footprint made it the best machine for the job."
The LTM 1500-8.1 is one of Liebherr's newer machines, providing a potent mix of lifting power and on-site mobility. ALL has four of them in its fleet with fifth soon to be added and, in addition to plant work, they are popular for construction and industrial applications, road and bridge construction, power plant upgrades and wind farm turbine erection and maintenance.
The melt shop is located amid other buildings on the mill's property, and some overhead obstructions also are in the mix. Meticulous measurements of the work area were captured and programmed into Liebherr's LICCON (Liebherr Computer Control) for pre-lift planning. By using the system to simulate multiple lift scenarios, Meek was able to confirm that the job was well within the LTM 1500's capabilities.
"Using the LICCON was a big advantage for us, because it allowed us to demonstrate exactly how the lift would look," said Meek. "It was the 'aha' moment when we got everyone's buy-in to use the 1500 for the lift."
Another time-saver for the customer was ALL Crane's ability to use its custom boom launcher (diagram below) to set up the LTM 1500 on site. Typically, assembly would require a second assist crane. Instead, the boom launcher — a specially designed truck — would accompany the 1500 and move the boom into position. That saves a day's rental for a second crane.
The crane was configured with full counterweights of 363,800 lbs., a short main boom of 53 ft. with 92 ft. of luffing jib, and a radius of 75 ft.
When it was time to perform the lift, there were actually three transformers that needed to be handled.
First, the old transformer, located 50 ft. in the air on top of the melt shop, was placed on skates and pulled out on a platform. Ironworkers in a man-lift then rigged the transformer and hooked it to the LTM 1500. It was carefully lifted up over all obstructions, swung, and placed on a heavy-haul truck.
Next, the new transformer was trucked in and the process was reversed. The meticulous process took an entire day. Later, the same crane was used to set a smaller transformer that weighed in at 92,000 lbs.
"The LTM 1500 performed excellently, as we knew it would," said Meek. "It was satisfying to achieve the goals using a crane with one-third less capacity than conventional norms would suggest. The mill's campus had grown so much in the years since the last changeout that it was no longer practical to bring such a large machine into that environment."
About ALL
The ALL Family of Companies is the largest privately held crane rental and sales operation in North America. Our strategically located branches have access to one of the world's largest and most modern fleets, operating under the ALL, ALT, Central, Dawes, and Jeffers names. For a rental quote, call: 800-232-4100 or visit www.allcrane.com/equipmentrental.