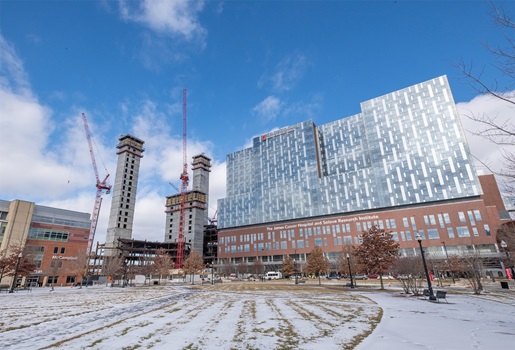 Ohio State University is in the midst of the largest single facilities project it's ever undertaken, the 1.9 million square foot Wexner Medical Center Inpatient Hospital. The 26-story building will house 820 beds and integrate research, diagnosis, treatment, and education. It is slated for completion in 2026.
To assist in erecting the structure, three luffing jib tower cranes from ALL Tower Crane will be on site for at least two years.

The tower cranes are a Potain MR 605B, which started at 180 feet of mast height, and two Potain MR 608 which started at 230 feet of mast height. Jibs for each are 197 feet. Each will eventually climb to a height of approximately 400 feet. The towers are an impressive temporary addition to the campus skyline.

Sam Moyer, general manager for ALL Tower Crane, says having three luffing jib tower cranes at a single site doesn't happen often. The reason for it here is to maximize flexibility and productivity. "The building is structural steel around three concrete cores," said Moyer. "The cores will eventually house the elevators and stairwells. Because the cores are advanced more quickly than the steel around them, having the luffers gives the contractors greater flexibility to keep working, no matter how the progress on concrete versus steel might differ." Moyer says conventional hammerhead or flat top tower cranes would run into the cores before the floors were high enough to perform tie-ins for a tower climb.
However, the concrete cores posed a challenge of their own in planning tie-ins. Because of the required tie-ins, ALL had to locate the cranes with some consideration for the cores. Specially fabricated struts, approximately three times longer than usual, are being used to tie the cranes to the cores with intermediate bracing for stability.

Due to the high utilization rates all three cranes will experience, having an ALL branch located in Columbus gives the project team added peace of mind. ALL Crane Rental Corp. is just 15 minutes away from the job site and has a service team dedicated to the project.
The tower cranes should be finished at the site by Summer 2023.