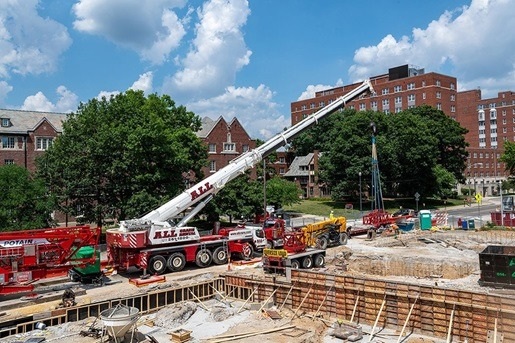 A strong national economy encourages construction opportunities. However, even a strong national economy typically results in construction growth that tends to be regional. Not a problem for Central Ohio. Columbus, Ohio, continues to defy the odds for a mid-sized Midwest metro area by remaining a hotbed of new construction.
"We're confident the boom will continue into 2020," said Rich Randall, general manager of ALL Crane Rental Corp. of Columbus, a member of the ALL Family of Companies.
When Randall assumed the GM position in mid-2018, education, medical, commercial, and industrial sectors were all strong performers. That has continued, with some surprising new contenders added to the mix.
In 2019, the tech sector and warehouse/distribution centers came on strong. In particular, the Columbus suburb of New Albany has become the epicenter for construction of data centers for the tech sector. In a business where there are no bigger names than Amazon, Google, and Facebook, all three are investing in data centers there.
Big tech needs a lot of digital storage for its information, plus redundancies on top of redundancies to protect that information. It takes a lot of space. Data centers—basically, huge warehouses for computer servers—serve that function.
It's hard to fathom just how large these buildings are. When complete, Facebook's New Albany campus will comprise three buildings and 1.5 million square feet. Google is working on its New Albany data center, and, although its planned size has not been released, the project will cost $600 million. With that kind of price tag, it's likely to be a mega structure as well.
But what does this mean for ALL?
"Data center construction projects are done in multiple phases and can take years," said Randall. "That means consistent work for our branch. These jobs also require a wide range of equipment—from boom trucks all the way up to a 550-USt unit with luffer—so they give us an opportunity to show off the breadth of our fleet."
Randall points out that his yard's full lineup of equipment is augmented by sister branches that surround his. From Cleveland to the North and Indianapolis to the West and Pittsburgh to the East—the ALL Family aligns itself like links in a chain, with each branch made stronger by the proximity of the others. "It really doesn't matter how wide-ranging the demand, we can get the equipment," said Randall.
Recent steel erection, concrete setting, and rooftop construction has utilized a staggering range of ALL's fleet across all capacities. A small sample incudes 50-USt boom trucks; 110-USt hydraulic truck cranes; crawlers at 150 USt, 330 UST, and 440 USt; all-terrain cranes at 100 USt, 165 USt, 265 USt, and 550 USt; and 40-foot and 65-foot mobile elevating work platforms (formerly called aerials; ANSI recently updated the nomenclature), often a half-dozen at a time.
Data centers can already use as much electricity as a small town, and protecting the integrity of the data also requires backup generators—a lot of them. It's not surprising that just one building at one of these data centers required a dozen generators on the roof. Each unit comes in two pieces, and each piece weighs 120,000 pounds. To set these large and vital pieces, ALL used a Manitowoc MLC300 with VPC-MAX for the task. It was configured with 157 feet of main boom at 54.2 degrees, and 474,100 pounds of VPC-MAX counterweight.
Randall is especially proud of how his branch responded when a brand-new customer entered the scene, and they quickly forged a relationship based on reliability and performance. An Illinois-based firm won the contract to build several retail distribution centers in the Columbus area. "Being from out of state, they had never worked with us before," said Randall. "So that first job was vital, and they were really pleased with how well it was executed. So much so that when that job was finished, they asked to move the entire operation—same equipment, same operators—to their next distribution center site. When we have an opportunity to build relationships and watch them take root, that's one of the most satisfying aspects of the job."
Heavy lifting at these sites was done by a 220-USt Manitowoc 14000 with 160 feet of main boom. All three jobs involved setting precast panels. ALL also provided an 8,000-pound telescopic material handler on all three sites and 40-foot and 60-foot mobile elevating work platforms.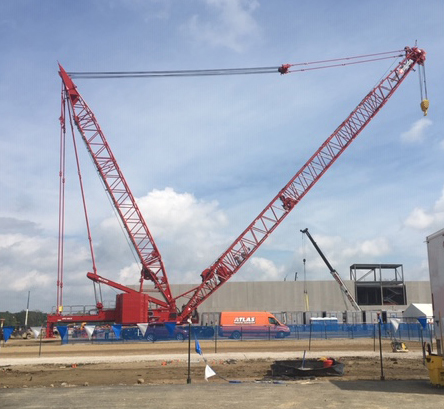 About ALL
The ALL Family of Companies is the largest privately held crane rental and sales operation in North America, operating under the ALL, ALT, Central, Dawes, and Jeffers names. For a rental quote: 800-232-4100 or https://www.allcrane.com/.