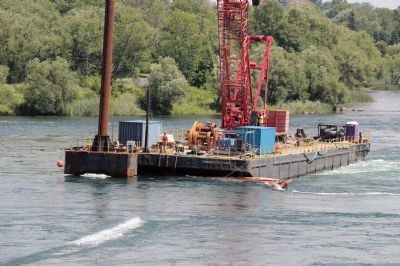 In late June, ALL Canada Crane Rental was hired by general contractor American Bridge for help dismantling and demolishing the majestic (yet aging) Seaway International Bridge in Cornwall, Ontario. Constructed in 1962, it spanned the north channel of the St. Lawrence River from Cornwall to Cornwall Island, and had been a notable part of the skyline ever since.
ALL, with its depth of experience in bridge projects, used a 300-ton Manitowoc 2250 crawler crane to take apart and remove the old bridge. The crane was assembled on a floating barge, where it would work from the river on the bridge's removal.
Two tugboats were also on the job to assist with positioning the floating barge: the Lac Manitoba and the LCM 131. Suddenly, there was a change in the river's current. Almost without warning, each tug was quickly overcome. Both tugboats capsized and sank. Thankfully, emergency crews quickly came in on safety boats and rescued all of the crew members from both tugs.
In the days to follow, after discussions with McKeil Marine Limited, owners of the floating barge and the tugs, ALL sent a second 2250 crawler to the river to assist in what would now be tugboat recovery operations. The new crawler was also installed on a floating barge and worked in tandem with the original 2250. The mighty crawlers made for an impressive team, and they safely and carefully raised the Lac Manitoba in a single day. The second tugboat's recovery is being handled over a longer period of time so that spilled diesel fuel from the sunken tugs can first be removed from the river.
ALL Canada has experience recovering sunken boats, to be sure, but this was their first tugboat recovery job. Notably, approximately 15 years ago, they participated in the recovery of the Maid of the Mist, the famous touring boat that travels on the Niagara River and past Niagara Falls. In that instance, while it was in winter storage, locks upstream of the boat had opened, flooding escarpment tunnels and causing it to sink. It was successfully recovered. Whether your job is on land or water, ALL has the equipment you need.
# # #
Photography content republished with the express permission of: Cornwall Standard Freeholder, a division of Postmedia Network Inc.
This article originally published in ALL's Lift Line magazine, Spring/Summer 2016 issue.