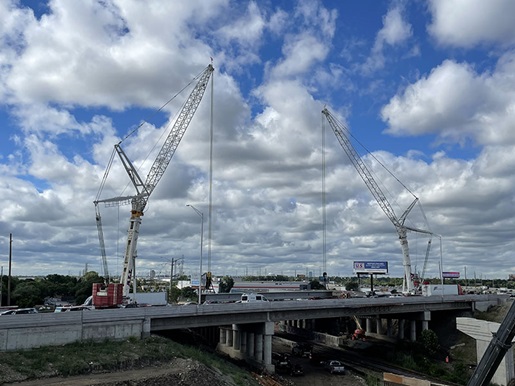 Building a brand-new interchange near the country's third-busiest airport was always going to be a project with many moving parts. The interchange project connecting the Tri-State Tollway (I-294) and the future I-490 Tollway by Chicago's O'Hare International Airport has lived up to the billing, requiring a staggering amount of heavy lift equipment to bring to fruition.
Part of the Illinois Tollway's Elgin O'Hare Western Access Project, the $360 million I-294/I-490 Interchange Project includes widening roadway bridges on and reconstructing a portion of the Tri-State Tollway (I-294) in addition to building the interchange, which will connect to the future I-490 Tollway to provide access for travel around the west side of O'Hare.
The Tollway contracted with Judlau Contracting, Inc. (general contractor) and S&J Construction (steel erector) to build the structural steel and precast concrete elements for the interchange, which consists of two new precast concrete bridges and two new curved structural steel bridge flyover ramps. Building the four structures would require a diverse mix of cranes, usually working two at a time, for a series of critical dual picks. S&J sought out trusted partner Central Contractors Service, a member of the ALL Family of Companies, to provide a phalanx of cranes needed for the job.
The project uses a mix of all terrain (AT) cranes and lattice boom crawler cranes, with capacities up to 600 tons and as low as 60 tons. The bridges and ramps are a mixed lot, too, with the two bridges, spanning Grand Avenue and Union Pacific railroad tracks, made of precast concrete I-beams and the flyover ramps, to provide on and off access to the new interchange, constructed of curved steel girders.
Joe Rogers, engineer for S&J Steel Erectors, said the project has many of the hallmarks of urban road and bridge projects. "We're working over an active railroad, adjacent to an active interstate, with a portion of one of the bridges over a retention basin," said Rogers. "The flyover bridges are high in the air – and we're next to a major airport, so we have height limits on our booms."
The rundown of cranes provided by Central Contractors Service is truly stunning. ATs include Liebherr LTM 1500 (600 USt), Liebherr LTM 1350 (400 USt), Liebherr LTM 1250 (300 USt) Liebherr LTM 1160 (190 USt), and Liebherr LTM 1060 (60 USt). The crawler cranes include Manitowoc MLC300 (330 USt), one with main boom, one with luffing jib and another with VPC-Max, and Manitowoc 2250 (300 USt).
These cranes were used in an assortment of tandems, depending on what was needed for each bridge, stage of construction, and lift. For example, two Liebherr LTM 1250 ATs were used for stage one of setting precast I-beams for the Grand Avenue bridge, while two Liebherr LTM 1160 ATs set them for the second stage (then, in a later stage, a Liebherr LTM 1350 and a Liebherr LTM 1160 were employed).
Lifting beams to build the bridge over the railroad tracks required a series of dual picks using two each: Liebherr LTM 1500 or Manitowoc MLC300, depending on the lift.
For setting curved steel girders for the flyover ramps, it was time for lattice boom crawlers to shine, specifically Manitowoc 2250 and Manitowoc MLC300 (with a Liebherr LTM 1060 AT acting as an assist crane).

The dizzying array makes it readily apparent why a deep bench of lift equipment is needed for the project. Central Contractors Service was able to supply virtually every crane from its own yard, but had the flexibility to reach out to sister branch Dawes Rigging & Crane Rental in Wisconsin to supply one crucial piece. Central's highly trained operators manned the cranes for each lift, working with precision for a series of dual picks.