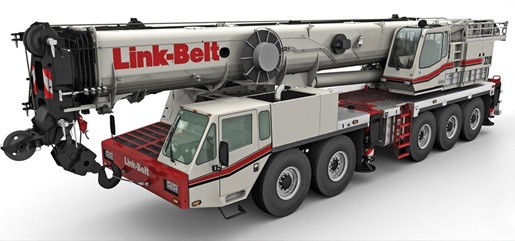 ALL Carolina Crane Rental of Wilmington assists with bridge replacement project
Cranes and bulldozers rule different realms: one, the air and the other, land. So it's not every day they collaborate on setting a bridge, but they did just that for a temporary cantilever bridge in Aurora, N.C., earlier this year. The 125-foot span is needed to maintain traffic flow on Route 33 over Campbell Creek while the North Carolina Department of Transportation (NCDOT) replaces the permanent bridge.
ALL Carolina Crane Rental of Wilmington, a member of the ALL Family of Companies, provided a Link-Belt ATC-3210 for setting the temporary bridge. The bridge itself was prefabricated and shipped to the site, then assembled on land near one of the creek banks.
ALL Crane positioned the ATC-3210 on the resting side of the bridge, on the opposite bank, and hooked up to it. The 210-USt crane was configured with 124 feet of boom and a full counterweight of 115,500 pounds. Outriggers were extended for additional support, and the radius ranged from 95 feet to 45 feet.
To prepare for its placement, the bridge was set on a special roller system. The bulldozer, from general contractor Dellinger Inc., began to slowly push the bridge toward the crane. ALL Crane's operator and the bulldozer operator were in constant radio communication to assure an even transfer. In addition, another ALL Crane crew member was positioned on the old bridge, acting as a spotter.
"Our operator had to methodically boom up while keeping the hoist line even, so it was vital that he and the bulldozer operator were acting as one," said Scott Harbaugh, sales representative for ALL Carolina Crane Rental of Wilmington. "We had to prevent any shock weight to the crane, so we needed a smooth, even transfer."
At the load's heaviest point, the ATC-3210 was at 45 feet of radius and was supporting 66,000 pounds. "We were at zero weight until the bridge reached the tipping point," said Harbaugh. "Then with each five-foot push, the crane would take on a little more weight until we had the full 66,000 pounds. It required skilled operators and steady hands on both sides of the bridge."
The bridge was set on a new concrete slab, and a ground crew came in to lay asphalt and finish it off. The temporary bridge will remain in place until the new permanent structure is completed. "At that time, we'll be back out here and basically do it all over again in reverse," said Harbaugh. "We'll pick it up with the crane and they'll pull as we boom out."
About ALL
The ALL Family of Companies is the largest privately held crane rental and sales operation in North America, operating under the ALL, ALT, Central, Dawes, and Jeffers names. For a rental quote: 800-232-4100 or https://www.allcrane.com/.