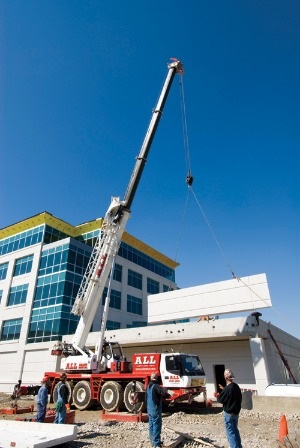 Having just the right tool to do a job is something that Developers Diversified Realty, Inc. knows well. DDR is a fully integrated real estate company based in Beachwood, Ohio, that acquires, develops, leases, and manages millions of square feet of shopping centers in the United States and abroad. The company's continuous growth has spurred the construction of a new, larger headquarters office building, to be completed by fall 2009 with help from ALL Erection & Crane Rental Corp., hired by Precast Services of Twinsburg, Ohio, to lift the precast concrete.
Precast Services, one of the largest specialty subcontractors in the United States, called on ALL to hoist the precast panels for the building's facade, each weighing approximately 11 tons and requiring a 50-foot radius. Initially, an 80-ton Link-Belt LS-138 Series 2 crawler crane from ALL got the precast setting started. Then the crawler moved off the site to allow the other trades to do their work.
Once precast setting was ready to resume, ALL brought in a 100-ton GMK4100B hydraulic truck crane with a 167 feet of main boom. With their superior mobility and lifting capacities of hundreds of tons, hydraulic truck cranes are the workhorses of the industry.
The ALL Family of Companies' 100-ton GMK4100B was selected for its 167-foot, 6-section full power boom that could handle the job without a jib, saving the contractor time and allowing the crane to work in the tight jobsite without the extra length.
Beachwood, Ohio, is a bustling suburban residential and retail/business hub of Cleveland. The traffic-congested area around the construction required a crane with great mobility that could move easily into the area. ALL's GMK4100-B can also be erected and ready to work quickly, saving the contractor critical time and expense over bringing back the crawler.
Precast trusted ALL to supply more than just cranes to the job. From the broadest, deepest, and most technologically advanced fleet in the industry, the ALL Family of Companies can help plan the lift and supply the right crane and immediate service for the job while helping contractors achieve cost savings, increase productivity, and maintain the schedule.