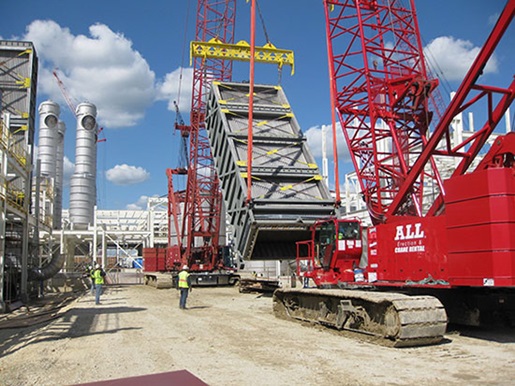 Within the confines power plants and refineries, it's important to utilize heavy lift equipment that is easily maneuverable and versatile. Often, lifts must be conducted within tight, congested workspaces—sometimes by many cranes at once—and usually under strict timelines to minimize plant downtime. The presence of underground pipelines and vaults means that ground bearing pressure is also an important factor to consider when selecting the right cranes for each job. It's important to have a lift partner that can provide the proper mix of needed cranes and the expertise to deploy them effectively.
Jeffers Crane Service of Lima, Ohio, a member of the ALL Family of Companies, is in the heart of the Midwest's power generation country and has been performing plant maintenance, scheduled outages, and new construction at plants for decades. Its general manager, Martin Bowman, says the trend continues moving toward using larger equipment to lift fewer, larger pieces. However, smaller cranes continue to serve a vital purpose.
"Decades ago, we were using 60-ton cranes to build piece-by-piece during scheduled outages," said Bowman. "Now, the idea is to use a 900-ton capacity crane to move a single enormous piece that's been assembled on the ground."
The benefit is obvious: less downtime. While the new part is being assembled, the plant remains operational. It must shut down only for the time it takes for the crane to place the new piece and for workers to complete installation.
Bowman says this is why cranes in the 500-ton class and above continue to grow in popularity for outage work. He points to the 900-ton Liebherr LTM 1750-9.1 all-terrain (AT) crane as a shining star in the market. It has seemingly endless configurations for fitting into specific spaces, extended reach, and substantial capacity even at a longer radius. "It's also quicker to set up than a conventional lattice boom crawler crane and can make multiple lifts at a congested facility in a shorter time because it doesn't require a complete tear-down every time you move it," said Bowman.
ATs have cut into the usage of crawler cranes for plant work, but crawlers still play a vital role. "Large crawlers will always win the capacity game as they can simply handle heavier loads," said Bowman. For this reason, crawlers will always have a place. Locally, Bowman has seen some loads approaching one-million pounds.
But for all the emphasis on bigger cranes and heavier loads, there's room for lift equipment of all weight classes on a plant site. "The larger cranes may dominate the skyline, but if you look to the ground, you will still see the smaller cranes performing much of the regular maintenance work," said Bowman. "We can literally have a nine-ton capacity industrial carrydeck crane on the same project as the 900-ton AT."
Outage projects often require an impressive contingent of cranes sometimes approaching 100 units. This is where a lift partner like Jeffers, and the whole of the ALL Family, sets itself apart. "All the cranes we deliver to a jobsite, from the smallest forklift or boom truck to the largest AT or crawler, come from our own fleet; nothing is subcontracted," said Bowman. "Our strength is in our ability to deliver as many cranes as customers need, when they're needed. If we don't have it here in our Toledo yard, we can get it from sister yards in Columbus, Cleveland, Fort Wayne, Indianapolis – or anywhere across the 33 north American branches. We have a pool of 3,500 individual pieces of lift equipment to draw from. When we have those kinds of numbers, directing close to a 100 units to one place is all in a day's work."
Plant outages are often mapped out years in advance, requiring a high degree of planning to deliver the proper crane package. "We're often helping our customers work within their budgets, tying into capital projects if they can bring something online during an outage," said Bowman. "If a plant needs cranes for 45 to 60 days around the clock, it's important they have a single reliable source for these machines from the smallest to the largest. In addition to the equipment it is imperative to have an outstanding service team at the ready. We are very fortunate to have a deep bench when it comes to the service and parts team across the ALL Family."
That's where ALL shines. Some crane rental companies are specialists, focused only on crawlers or other specific types of lift equipment. For ALL, says Bowman, "We strive to specialize in a spectrum of lifting solutions that meet our clients' ever-changing needs." It takes a lot of training and experience from a people perspective, he explains, "But when the right people are matched with the right equipment — that's win-win for the customer."