Central Rent-A-Crane, Inc. (Fort Wayne)
Crane Rental in Fort Wayne, Indiana
Central Rent-A-Crane's branch in Fort Wayne joined the ALL Family in May 1999 with about 10 employees and half a dozen cranes. Steady growth culminated with 2015's opening of a new 7-acre facility with 6,000 square feet of office and shop space. Two crane bays were also added, allowing for machines to be serviced and repaired on site instead of traveling to the nearest ALL service center. Today, the Fort Wayne yard boasts more than 25 employees and approximately 30 cranes and other machines, enabling them to provide the right equipment and operators for any job. They maintain a close equipment-sharing relationship not only with the other Central locations, but also with nearby Jeffers.
Fleet Highlights Include
Grove GMK6300L (350 USt) telescopic all-terrain crane excels at heavy lifting with a long reach. It's highly maneuverable, strong, and compact, with the longest boom in its class at 262 feet. It's a favorite among cell-tower clients doing antenna work, bridge contractors setting steel beams, and HVAC customers for reaching air-handling units.

Grove GMK4115L (115 USt) long-boom AT.

Grove GMK7550 (550 USt) all terrain with MegaWing and luffing jib capabilities.

In addition to its local fleet, this branch benefits from the entire ALL Family fleet, including crawler cranes (up to 1,200 USt), all-terrain cranes (up to 900 USt), hydraulic truck cranes (up to 115 USt), rough terrain cranes (up to 165 USt), industrial cranes (up to 25 USt), tower cranes (up to 35 USt), and mini crawler cranes (up to 4.24 USt).
This branch also offers a wide range of aerial boom lifts and scissor lifts (MEWPs) as well as telehandlers and material handlers.
Industries We Specialize In
Central Rent-A-Crane can help you get the right lift equipment for your project. Some of the industries we specialize in include roads and bridges, wind energy, vertical construction, marine or maritime construction, facility maintenance, HVAC rooftops, steel erection, precast, power plants and power generation, waste water facilities, industrial, and higher learning institutions and universities.
Central Rent-A-Crane is an authorized retailer for these manufacturers
Call us today for more information on purchasing Maeda mini cranes and equipment.
---
AUTHORIZED SERVICE CENTER FOR LOAD KING CRANES
Central Rent-a-Crane can service Load King boom trucks, truck cranes and Terex legacy products for customers in Alabama, Georgia, Indiana, Ohio, Pennsylvania, West Virginia and Wisconsin. Please contact us directly to learn more about how we service Load King cranes or to start your service request.
---
Robert Daine
Sales Representative
888.203.4500
Kyle Rensberger
Sales Representative
260.210.1845
Patrick McKenzie
Logistics Manager
260.247.9302
Kevin Hileman
Branch Manager
574.295.0180
---
Service Area
INDIANA
Fort Wayne, New Haven, Woodburn, Monroeville, Leo-Cedarville, Huntertown, Ossian, Churubusco, Roanoke, Auburn, Butler, Angola, Freemont, Waterloo, Kendallville, South Whitely, Warsaw, Claypool, Silver Lake, Wabash, Huntington, Bluffton, Peru, Kokomo, Montpellier, Decatur, Berne, Winchester, Muncie, Elwood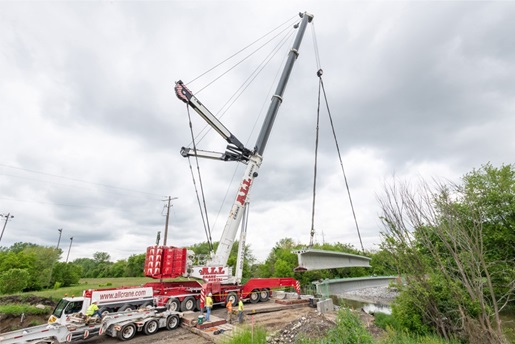 HOOSIER DADDY: CENTRAL RENT-A-CRANE MAKES QUICK WORK OF INDIANA BRIDGE
Jun 10, 2019
The Liebherr LTM 1750-9.1 is gaining new fans for its capacity, reach, and versatility—this time in the Hoosier State, prompted by a recent bridge project near Indiana University Northwest.