ALL Tower Crane LLC
Tower Cranes for Rent Across the United States
ALL Tower Crane focuses on providing and maintaining a modern fleet of approximately 100 tower cranes, as well as a supply of spare tower crane parts. Founded in 2005, this division of the ALL Family is headquartered in Richfield, Ohio, and supports every branch in the ALL Family. Personnel are factory-trained by Potain and Peiner, and ALL Tower has trained technicians throughout the ALL Family. ALL Tower also has dedicated professional engineers, registered in numerous states, to provide custom assistance to customers with their tower crane applications.
Fleet Highlights Include
ALL Tower Crane has recently added their first Liebherr Tower, the Liebherr 125K fast-erecting tower crane with industry-leading jib length, hook height, and capacity

The fleet includes self-erecting tower cranes, hammerhead tower cranes—including flat top tower cranes—as well as luffing jib tower cranes.

Cranes range from 4 – 35 ton capacities, and up to 262 feet of reach.

The ALL Tower parts inventory includes at least one set of electric motors per crane model in stock.
Daniel Giera
Engineer
330.558.8427
Marty King
Shop Supervisor
330.734.6984
Sam Moyer
General Manager
330.659.0777
---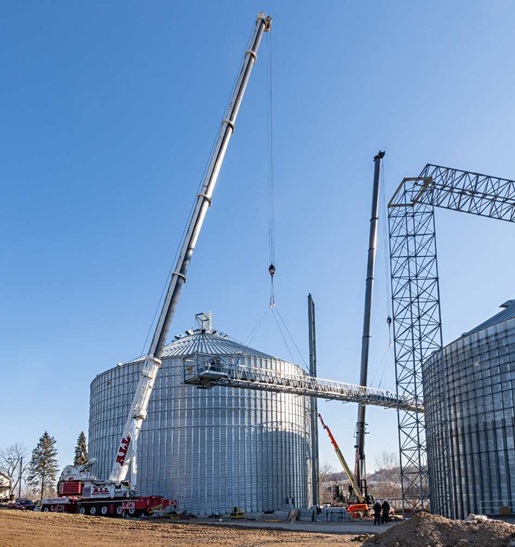 BIG HARVEST
Mar 17, 2021
Everything about farming is getting bigger. That's the assessment of Kevin Berger, grain operations manager for Centerra Co-Op, an agricultural services company with 13 locations in northern Ohio and Pennsylvania. With bigger equipment, harvests are bigger, and Berger's company needs more and bigger storage.