ALL Crane Rental of Alabama, LLC
Crane Rental in Mobile, Alabama
Since 2006, ALL Crane Rental of Alabama has been the heavy lifting expert in the Gulf Region serving Alabama, Mississippi, and parts of Tennessee and Florida. As a member of the ALL Family of Companies, our Alabama branch is able to provide a wide range of equipment to get the job done as well as knowledgeable and experienced staff. In 2016, ALL Crane Rental of Alabama moved to a new 20-acre location, rebuilding an old warehouse with new inside walls and five modern drive-through bays for equipment. The new space allows for a larger parts inventory and additional buildings for storage and welding shops. More space, more parts, more services—to help ALL consistently offer the best equipment to customers.
Fleet Highlights Include
Liebherr LTM 1450-8.1 (550 USt) all-terrain crane. Offers tremendous mobility on and off road. It is ideal for bridges and highways, power and nuclear plants, and refineries. Also great for erecting and disassembling tower cranes.

Grove GMK6300L-1 (350 USt) all-terrain crane. Its long boom provides among the strongest lifting capabilities of any six-axle all-terrain crane, well-suited for heavy lifts at tall heights.
Liebherr LTM 1160-5.1 (200 USt) all-terrain crane. Offers a variable steering concept with independent rear-wheel steering, quick, convenient outrigger setup, and an impressive 311-foot boom.

Liebherr LTM 1090-4.1 (110 USt) all-terrain crane. Compact yet strong. This new addition to the fleet can drive to the jobsite and get the job done with lower running costs.

Link-Belt HTC-8675 Series II (75 USt) telescopic truck crane with up to 127-foot boom. Easy to transport, as it can be configured to comply with many state transport laws and meets the highest emissions requirements.  

Grove TMS 500-2 (40 USt) hydraulic truck crane with a 95-foot boom. This lightweight crane features a quick set-up and versatile taxi crane capabilities.

In addition to its local fleet, this branch benefits from the entire ALL Family fleet, including crawler cranes (up to 1,200 USt), all-terrain cranes (up to 900 USt), hydraulic truck cranes (up to 115 USt), rough terrain cranes (up to 165 USt), industrial cranes (up to 25 USt), tower cranes (up to 35 USt), and mini crawler cranes (up to 4.24 USt).
This branch also offers a wide range of aerial boom lifts and scissor lifts (MEWPs) as well as telehandlers and material handlers.
Industries We Specialize In
ALL Crane Rental of Alabama can help you get the right lift equipment for your project. Some of the industries we specialize in include roads and bridges, wind energy, vertical construction, marine or maritime construction, facility maintenance, HVAC rooftops, steel erection, precast, power plants and power generation, oil and gas, waste water facilities, industrial, and higher learning institutions and universities.
Tim Howard
Branch Manager
251.7063659
Scott Swearengin
Sales Representative
251.370.2453
---
Service Area
ALABAMA
Mobile, Gulf Shores, Bayou La Batre, Baldwin County, Montgomery, Tuscaloosa, Dothan, Ozark, Evergreen, McIntosh, Thomasville, Selma, Prattville, Greensboro, Brookwood, Aliceville
MISSISSIPPI
Hattiesburg, Jackson, Meridian, Starkville, Columbus, Collins, Oxford, Tupelo, Vicksburg, Gulfport, Biloxi, Starkville, Morgan City
FLORIDA
Pensacola, Tallahassee, Fort Walton Beach, Panama City, Crestview, Escambia, Santa Rosa, Okalossa, Walton, Holmes, Jackson, Washington, Bay, Calhoun, Wakulla, Leon, Liberty, Franklin, Gulf, Gadsden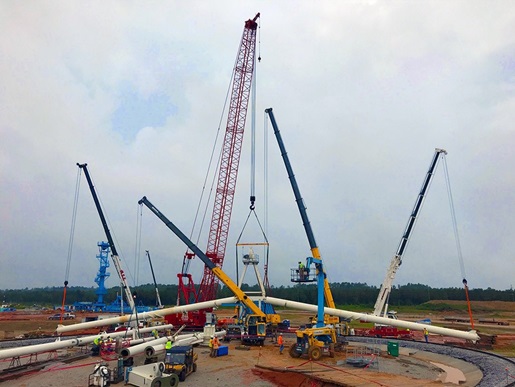 FIVE WOOD
Aug 17, 2020
We already know that when you need to pick and set large building materials, you get a crane. But what if the item you need to pick and set is also a crane?