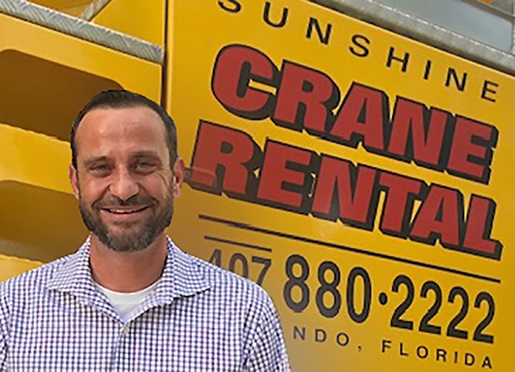 November 25, 2019—A veteran of the ALL Family of Companies, T.J. Wicklander, has been named general manager of ALL Sunshine Crane Rental Corp. of Orlando, Florida. Wicklander brings two decades of crane experience forged in the highly competitive Greater Chicago area, where he served in a multitude of roles at Central Contractors Service, also an ALL branch.
Wicklander began his career with the ALL family 19 years ago as a parts runner for Central Contractors Service. Over the years, he also worked in operations and dispatch and spent a decade and a half in sales before most recently serving as manager of the Alsip, Illinois, location.
In addition to the insight gained from having served in multiple capacities with the ALL Family of Companies, Wicklander's promotion is owed, in part, to his long tenure in sales and his battle-tested experience in competitive construction markets. All told, Wicklander is well-prepared to lead ALL Sunshine Crane Rental in Orlando, one of the fastest-growing cities in the U.S.
"Working with [Central Contractors Service General Manager] John Martello was an amazing education in the crane business," said Wicklander. "The ALL Family is a place where the sky's the limit on your success if you take advantage of the opportunities given to you. We have the top talent, the best equipment, and a well-earned reputation for excellence that I'm proud to be a part of."
Wicklander's path is not uncommon; in fact, he's a great example of the company's commitment to developing excellence from within.
"T.J. is a crane industry veteran with a wealth of knowledge to share," said Michael L. Liptak, president of the ALL Family of Companies. "His path is what makes ALL an industry leader. We know that the best employees are the best problem solvers. So those are the people we hire. Then we train them to succeed and develop their skills so they can grow with our company."
The company pairs new hires with seasoned veterans to give them a foundation like no other. That support, said Liptak, is the reason their employees stay and thrive.
Wicklander said the ALL name is strong in the market, and he plans to build on that success with the company's patented mix of fleet breadth, crane know-how, rent-ready condition, and world-class service and support. "This is a market where jobs are big and ever-changing," said Wicklander. "The Orlando area has seen sustained, explosive growth for years, and I'm looking forward to digging in."