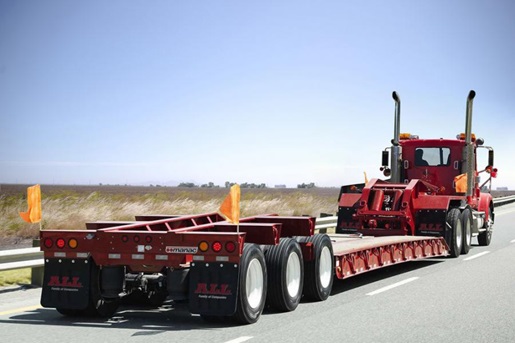 One of the value-adds of doing business with the ALL Family of Companies is that it employs its own fleet of 2,500 trucks and trailers to transport cranes throughout North America. This gives customers a critical edge in staying on schedule — in a business where time means big money — without having to rely on outside trucking companies. Now ALL Crane is bolstering that capability with acquisition of a massive haul of 212 new trucks and trailers. It's a significant purchase that broadens the company's ability to offer complete door-to-door crane service.
The order includes 40 Peterbilt trucks, 12 Nelson RGN (removable gooseneck) trailers, and 160 new Manac drop deck trailers. Of the Manac trailers, 100 are 48-ft. (14.6 m) spread axle units, which can accommodate 20,000 lbs. (9,072 kg) per axle anywhere in the United States. The remainder consists of 50 tandem axles, four quad axles and six aluminum flatbeds.
The majority of the Manac trailers (150 of the 160 total) are galvanized, continuing ALL Crane's investment in galvanizing rather than paint, which can extend trailer life at least twofold, according to the manufacturer.
Galvanized steel decks reduce maintenance and resist chips, scratches and wear, particularly the corrosion caused by road salt and brine. Also, although ALL Crane is a Manac dealer, these 160 new trailers will be exclusively dedicated to the company's own fleet.
ALL Crane will take delivery of the entire order through the end of 2019, with units being strategically distributed across all three dozen branches of the ALL family.
"This package demonstrates our continued commitment to investing in whatever it takes to get equipment to customers, wherever and whenever they need it," said Jimmy Hill, senior logistics manager. "We are able to easily move cranes across the country or across town to keep customers' projects on schedule."
ALL Crane's specialized transport divisions have ICC authority in the 48 contiguous U.S. states and throughout Canada.
For more information, call 800/232-4100 or visit www.allcrane.com.