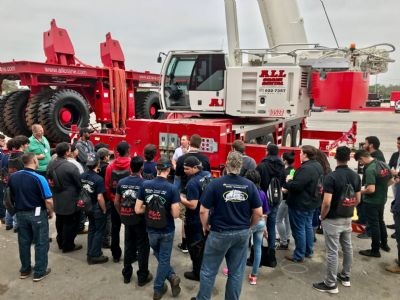 During one of the largest shortages of skilled labor in our nation's history, the construction industry is turning to millennials to fill the gaps. But stereotypes of the industry are difficult to overcome, especially when other trades are vying for the attention of the same potential workers.

"They don't always realize how much the industry has changed," explained Mitch McDonald, GM of ALL's Florida branches. "It's so different than it used to be. When I tell people about it, I can see they are not only surprised, but their interest is piqued. They always have questions."

According to a recent article in Construction Business Owner (June 2016), four major industry shifts in the last 25 years may make construction more appealing to millennials than it was to their parents—if they put their preconceptions behind them.


TECHNOLOGY

Heavy equipment has become increasingly more computerized. For a generation that grew up playing video games, joystick controls will feel familiar. Smartphones and tablets are as common on jobsites as hardhats, and drones are being utilized in several market sectors. 3D software is commonly used to plan safer, more efficient lifts. "The IT world is so saturated now, and the competition is fierce," McDonald explained. "But we need technological savvy in construction. There's lots of opportunity." In the Life feature Daniel Giera was hired to convert hand-drawn engineering plans into CAD, jumpstarting his unexpected engineering career in the construction field.

SAFETY REGULATIONS

Workers should always remain vigilant around heavy equipment, but federal, state, and city regulations have dramatically reduced danger on jobsites. Personal protective equipment is not just encouraged, but required. Checklists come in triplicate and safety training is mandatory. "Nothing matters more than safety," McDonald said. "The industry recognizes that now more than ever before."

CULTURE

In addition to great pay, the construction industry offers cultural benefits that are as important to millennials as healthcare. A camaraderie forms quickly among those who work with "big boy toys." Travel is common, and workers see behind the scenes into sports arenas, museums, landmarks such as the Rock & Roll Hall of Fame, theme parks, and more. Each day is different, with the opportunity to quickly move up. There's a sense of ownership that comes with working with your hands, and the satisfaction of knowing you're part of a team.

DEMAND

As baby boomers retire, the demand for trade workers continues to grow—and the demand for tech-savvy trade workers grows at an even faster pace. This translates to security for job seekers who want to feel that their contributions are valued by employers. "I've found that some workers entered into the industry because the job they went to school for wasn't available or just didn't pan out. Now they make GOOD livings and can actually support their families," explained McDonald.
In an effort to reach the next generation and shatter stereotypes, the ALL Family of Companies has participated as sponsors and presenters in the Lift & Move USA series since its inception in 2015. The series—a joint venture from SC&RA, KHL Group, and NCCCO—targets high schoolers and showcases careers in the heavy lift industry.
In February 2017, ALL played an even larger role in the series, hosting the event at the
ALL branch in Tampa
. For McDonald and his team, the event means sharing what they love. "I'm eager to have a new generation come in and see what we do. They're going to be really excited," he predicts. "To get closer to the cranes, to meet our people, they're going to be inspired."
# # #
This article originally appeared in ALL's Lift Line magazine, Spring 2017.