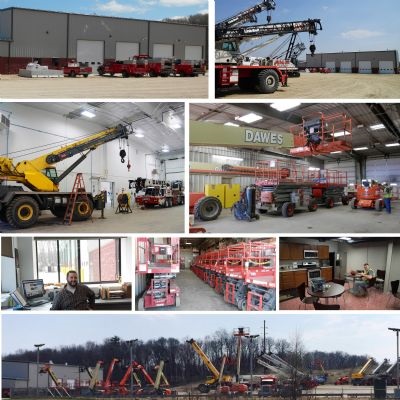 The word 'forward' is not just Wisconsin's state motto. It's also how the ALL Family wants to move its branches — starting with a major expansion in Elk Mound.
Forward also symbolizes the viewpoint of the employees at ALL's Elk Mound location of Dawes Rigging & Crane Rental, Inc. They are eagerly going forward with renewed energy and zest for their work, thanks to a major expansion project that wrapped up earlier this year.
From its beginnings in 1993, the Elk Mound branch has come a long way — literally. Originally, it was located on farmland in Chippewa Falls in adjacent Chippewa County. By 2006, the farm was no longer an ideal fit for the branch's base of work serving Wisconsin's growing construction and energy industries. It moved to its current location on East 555th Street in Elk Mound, Dunn County. As the workload grew, the 6,500 square feet of space slowly stretched its seams. While employees had an expansive yard — terrific for equipment storage — the shop itself was too small to handle the maintenance of equipment. That meant equipment wasn't available as often as it was needed by customers in the area.
Bigger Does Mean Better
In summer 2015, ALL invested in the expansion of its Elk Mound facilities. The employees were beyond excited. The expansion gave them an impressive additional 14,400 square feet of space for equipment servicing, including three drive-through crane/equipment bays for service and a dedicated wash bay, each bay measuring 100 feet deep. Roughly 2,000 square feet of the addition became offices and conference/classroom space, which can serve as a safety training venue for both employees and customers.
The new service bays allow quicker turnaround on equipment in need of maintenance or repair since they don't have to be sent to an ALL location farther away. The ability to service more machines on site — and to provide more comprehensive service — translates to greater availability of equipment to all of Dawes' customers and shorter downtime for the total fleet. The expansion project took five months to complete.
The reaction from employees has been extremely positive. "You honestly couldn't fit any more equipment in here before the expansion," said Mike School, branch manager for Elk Mound. "Cranes were fighting aerials for room and jockeying for space inside as needed. It was just so packed and made the winters very long, as we often had to work on equipment outdoors, sometimes in harsh conditions. Now, it's like night and day. We had great morale before, and we made do with what we had, but now it's even better. Our attitudes, our approach, our efficiencies and processes — everything is improved. When we can do our jobs better, everyone benefits."
The Elk Mound branch takes great pride in maintaining their impressive inventory of cranes and other lift equipment. "Right now, our crawlers and rough-terrain cranes are in heavy demand," said School. "The wind farms in our area keep the crawlers steadily busy. But daily rentals from our taxi fleet are really our bread and butter."
Elk Mound Fleet Highlights
As a vital part of their daily taxi crane fleet, Elk Mound boasts one of the best-in-class 100-USt hydraulic truck cranes on the market: the Link-Belt HTC-86100 (100 USt/85 mt). It's the largest truck crane that can be moved completely self-contained on Wisconsin roadways, reaching highway speeds of up to 62.8 mph, and can ship with no assist trucks needed. It features a 140-foot, five-section main boom and a two-piece bi-fold lattice fly (35-58 feet) with a maximum tip height of 237 feet.
Elk Mound also has one of the strongest markets for rental of mobile elevated work platforms (MEWPs) and telehandlers, more so than any other Dawes location. Equipment on hand ranges in lifting heights from 16-185 feet in scissor lifts, straight booms, and articulating boom models, with telehandlers ranging in capacity from 5,000-20,000 pounds and lifting heights of up to 55 feet. But, like every yard in the ALL Family, Dawes has access to the entire company fleet, one of the largest and best maintained fleets in North America — crawler cranes up to 1,000 USt, all-terrain cranes up to 900 USt, hydraulic truck cranes up to 200 USt, rough-terrain cranes up to 150 USt, and industrial cranes up to 25 USt.
Notable Projects
Projects for Elk Mound vary and continue to grow in number and scope. The branch is currently part of the impressive $50 million Franklin Avenue Bridge renovation project in downtown Minneapolis. The 1,054-foot bridge, formally known as the F.W. Cappelen Memorial Bridge, carries Franklin Avenue over the Mississippi River. In this high-profile project, the historic bridge is being restored to more closely resemble its original 1923 design (Norwegian-born Frederick William Cappelen, a former Minneapolis city engineer, was one of the original designers). A new bridge deck will be installed, with multimodal features for pedestrians and bicyclists and a new non-motorized crossing area on the west end of the bridge. Five crawler cranes from Dawes are assisting with lifting and setting precast concrete panels for the bridge deck — three Manitowoc 16000s (440 USt/400 mt) and two Manitowoc 2250s (300 USt/272 mt). The project is expected to be completed in 2017.
"We are all one company and we move forward together," said School. "If we need help from another branch, they make it happen. If our equipment is needed elsewhere, we get it there. It really benefits our customers that all of our locations are strategically placed so we can get customers whatever they need, whenever they need it. It's a great way to work. And with our newly expanded facilities, our outlook for the future is nothing but positive." Or, as they say in Wisconsin, "Forward."
ALL [in the Dawes] Family
1945 - In 1945, Wisconsin-based Shea Drayage Company of Racine and the Matson Company of Kenosha merged. The new firm became known as Shea-Matson and was based in Milwaukee.
1973 - In 1973, Shea-Matson was purchased by Dawes Transfer of Milwaukee, a company led by former Shea-Matson employees Thomas Freckmann, Dan O'Gorman, Ted Lehninger, and Dick Grimsrud.
1978 - The company's name evolved into Dawes Rigging & Crane Rental, Inc., and they joined the ALL Family of Companies in 1978.
1987 - Branch office added in Kaukauna.
1989 - Tom Freckmann retired in 1989 and was succeeded by his son, Steve Freckmann, who remains the current Dawes general manager today.
1993 - Branch offices added in Madison and Elk Mound.
# # #
This article originally appeared in ALL's Lift Line magazine, Fall 2016.