Our Fleet of Cranes For Rent
Hydraulic Crawler Cranes
Apr 22, 2021, 13:11 PM
ALL Crane is the national leader in hydraulic crawler crane rental solutions. Rent the cranes you need for job sites across North America.
ALL Crane is the nation's leading seller of hydraulic crawler cranes. Reach out today to buy new and used cranes from 50 to 140 USt.
Title :
Hydraulic Crawler Cranes
Rent meta title :
Rent Hydraulic Crawler Cranes Near You
Buy meta title :
Hydraulic Crawler Cranes for Sale | ALL Crane
Splash Heading Rent :
Hydraulic Crawler Cranes
Splash Heading Buy :
Hydraulic Crawler Cranes For Sale
Hydraulic Crawler Crane Rentals from 50 to 250 USt
When your business needs to rent hydraulic crawler cranes for your heavy lifting needs, it's time to turn to ALL Crane. Our extensive fleet of rental cranes include a wide variety of hydraulic crawlers to help you invest in the right equipment for your jobsite.
Hydraulic crawler cranes, also known as telecrawlers for their telescopic boom, are an integral part of our fleet. Their transportability and quick setup often make them the crane of choice for construction work. Merging the capability of a rough terrain crane with the mobility and stability of a crawler crane, telecrawlers are popular on job sites with poor ground conditions and long distances between lift sites.
Telecrawlers are a popular choice for pipeline work, bridge construction, electrical transmission lines, wind farms, moving bulk fuel tanks, and general construction. With 33 branches around the country, we can help you invest in the best, most cost-effective rental solution for all your job sites across North America.
Buy New and Used Hydraulic Crawler Cranes from 50 to 140 USt
ALL Crane is here to help you buy your next crawler crane. As part of the largest privately-owned crane rental and sales enterprise in North America, ALL has the selection and expertise to help you invest in the perfect crane for poor ground conditions, heavy duty lifting, and other challenging job sites.
ALL offers a wide range of new and used crawler cranes for sale to address your desired lifting capacity, telescopic boom length, and make and model, with top manufacturers including Link-Belt. Our experts can help you find and invest in the perfect crane for your lift planning needs at one of our 33 branches located across North America.
Ready to buy your next hydraulic crawler crane? Reach out to ALL Crane today to buy the right equipment for all your jobs.
ALL Offers Value Beyond Our Crane Rental Services
As North America's crane rental leader, ALL supports all your needs in addition to our hydraulic crawler cranes. We provide several resources to help us serve as a one-stop shop for all your heavy lifting solutions.
Rental Purchase Options – Save on long-term investments by applying part of your rental payments toward a final purchase.

Shared Equipment Program – Rent our equipment out to subcontractors to eliminate waste and improve productivity on your jobsites.
Specialized Transport and Hauling – Our transport fleet provides local, regional, and long-distance hauling to job sites and facilities across 48 states.

Maintenance and Service – ALL's factory-trained, in-house technicians are available for 24-hour services and can be dispatched to job sites across the country
ALL: Your One-Stop Shop for Telescopic Crawler Crane Solutions
ALL Crane didn't become a leader in the heavy lift industry by just selling cranes. We are the nation's leader in quality crane solutions, which includes providing value that extends well beyond the initial sale. We offer several value-added resources and benefits to help you address all your lift planning needs and avoid unnecessary downtime: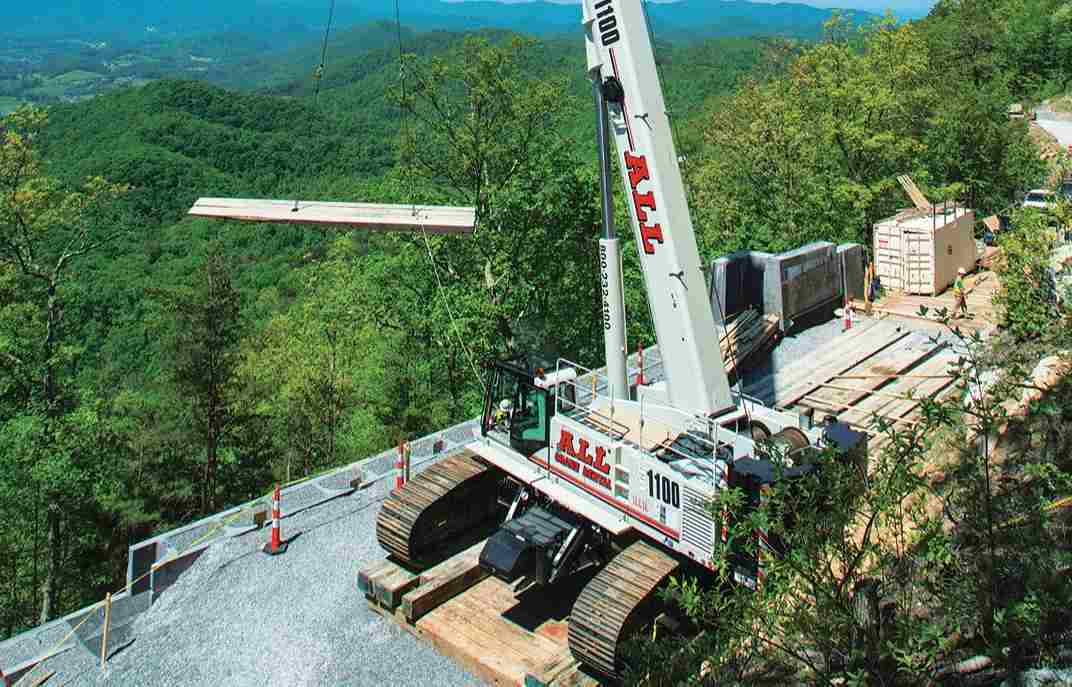 Related equipment categories :
Cranes
Rent Cranes From North America's Sales Rental & Crane Leader
At ALL, we provide more than just crane rentals. We provide our customers with the support they need to invest in reliable, cost-effective heavy lift solutions for their job sites. That support extends beyond the industry's most technologically advanced fleet. We offer unparalleled service to our customers through a variety of value-added services.
Read Our Featured Case Study