ALL Carolina Crane Rental, LLC
Crane Rental in North Charleston, South Carolina
The three Carolina branches, including two branches in North Carolina (Raleigh and Wilmington) and one in South Carolina (North Charleston), work together to form a regional crane powerhouse. All three Carolina branches share logistics systems, and equipment moves freely around the region, including ALL's other Southern branches in Alabama, Florida, Georgia, Louisiana, Tennessee, and West Virginia.
Fleet Highlights Include
The most popular crane in the fleet is the Grove GMK5115L, a compact all-terrain crane that is perfect for the downtown Charleston area and has the long-reach boom of 197 feet, making it very versatile.
In addition to its local fleet, this branch benefits from the entire ALL Family fleet, including crawler cranes (up to 1,200 USt), all-terrain cranes (up to 900 USt), hydraulic truck cranes (up to 115 USt), rough terrain cranes (up to 165 USt), industrial cranes (up to 25 USt), tower cranes (up to 35 USt), and mini crawler cranes (up to 4.24 USt).

This branch also offers a wide range of aerial boom lifts and scissor lifts (MEWPs) as well as telehandlers and material handlers.
Industries We Specialize In
In the Carolinas, the ALL fleet serves markets such as aerospace and aviation, transportation (including major and midsized ports), airports (13 in the region), and energy markets such as nuclear, solar, and wind. We also specialize in roads and bridges, wind energy, vertical construction, marine or maritime construction, facility maintenance, HVAC rooftops, steel erection, precast, power plants and power generation, waste water facilities, industrial, and higher learning institutions and universities.
Mike Hoopes
Service Manager
843.773.7844
Logan Moody
Dispatcher
843.773.7809
Rich Nomanson
General Manager
919.533.3266
---
Service Area
SOUTH CAROLINA
Charleston, North Charleston, James Island, Folley Beach, Mt. Pleasant, Georgetown, Florence, Columbia, Greenville, Spartanburg, Sumter, Aiken, Beaufort, Hilton Head, Orangeburg, Myrtle Beach, Rock Hill, Sumpter, Conway, Goose Creek, Anderson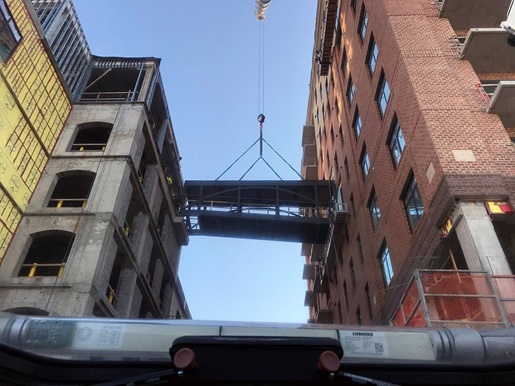 BRIDGE CLUB
Mar 6, 2020
Sitting in the cab of his Liebherr LTM 1300-6.2., a 300-USt mobile crane, Raymond Gallagher maneuveres a 13-ton pedestrian bridge that will join two buildings.