ALL Canada Crane Rental Corp. (Hamilton)
Crane Rental in Hamilton, Ontario Canada
ALL Canada is one of the leading crane rental companies in Eastern and Central Canada with crane rental yards in the Toronto area. We offer Boom Trucks, Crawler Cranes, All-Terrain Cranes, City Cranes, and other cranes. Our local fleet includes mini crawler cranes that can lift indoors, rough terrain cranes, hydraulic truck cranes and larger mobile all-terrain cranes for larger lifts and wind mill maintenance.
Fleet Highlights Include
Our Grove GRT880 (80 USt) rough terrain cranes are maintained and serviced in-house and ready to rent.

Link-Belt HTC-8675 II (75 USt) offers superior mobility and lifting capacity.

Our Maeda mini cranes with glass placement attachments offer a wide range of lifting capabilities. Small enough to fit indoors and light enough to set up on weight restricted areas, this crane gets the job done in tight spaces.

ALL Canada benefits from the entire ALL Family fleet, including crawler cranes (up to 1,200 USt), all-terrain cranes (up to 900 USt), hydraulic truck cranes (up to 115 USt), rough terrain cranes (up to 165 USt), industrial cranes (up to 25 USt), tower cranes (up to 35 USt), and mini crawler cranes (up to 3.4.24 USt).
Industries We Specialize In
ALL Canada Crane Rental can help you get the right lift equipment for your project. Some of the industries we specialize in include roads and bridges, wind energy, vertical construction, marine or maritime construction, facility maintenance, HVAC rooftops, steel erection, precast, power plants and power generation, waste water facilities, industrial, and higher learning institutions and universities.
Andrew Viney
Operations Manager
905.795.1090
Richard Morrison
Service Technician
905.795.1090
W. Mark Ireland
Service Dept.
905.795.1090
Darren Stehr
Sales Representative
905.795.1090
Mark Ireland
General Manager
289.628.1797
---
Service Area
ONTARIO CANADA
Toronto, Mississauga, Brampton, Scarborough, Barrie, Vaughn, Oakville, Burlington, Markham, Caledon, Halton, Milton, Kitchener, Niagara Falls, St. Catharine's, Grimsbey, Thorold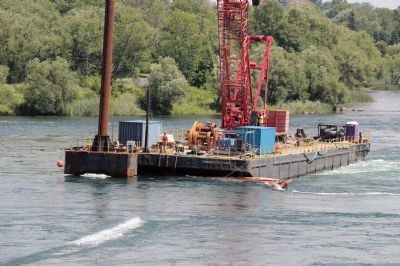 BRIDGE WORK BECOMES TUGBOAT RESCUE
May 6, 2016
In late June, ALL Canada Crane Rental was hired by general contractor American Bridge for help dismantling and demolishing the majestic (yet aging) Seaway International Bridge in Cornwall, Ontario.